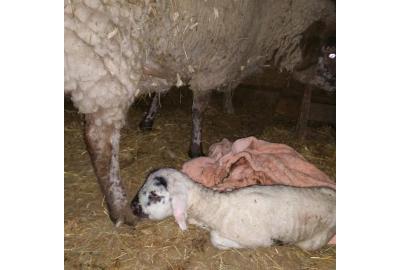 NCO Tips for Birthing Season
Even farmers with 10+ years experience can be caught by surprise when birthing season arrives. In some cases, you may not even know the animal is pregnant until contractions begin. For this reason, it is important to always have an emergency birthing kit that is stocked and accessible for both the expected and unexpected deliveries. Here is a short list of items that we find helpful to keep on hand:
Birthing position pictures: I have found this helpful to look at during difficult presentations, as a visual in the moment helps keep my mind focused.
Your emergency vet's phone number: even if you have done this for years, it never hurts to have backup available
7 to 10% tincture iodine: this is needed to dip umbilical cords and to scrub your hands and arms if assistance is needed during delivery
Empty and clean film canister: this is ideal in sheep or goat operations, as the canister can be filled with iodine, placed over the umbilical against the stomach, and the newborn tipped backwards to fully immerse the umbilical cord in the iodine solution.
Plain dental floss: this is helpful to tie off the umbilical cord if it needs to be cut or trimmed
Clean towels or puppy pads for drying or cleaning up fluids: the benefit of puppy pads is that they can just be thrown away after use.
Sharp, sterile knife and/or scissors: for trimming the umbilical cord
Paper towels: never hurts to have paper towels on hand
Flashlight: this is helpful to peer into the sac during birth to ensure the baby is presenting properly
KY Jelly: this makes assisting a bit easier should you have to turn the baby
Syringes: keep a variety of different sized syringes on hand. Small ones for if you need to encourage the newborn to suckle and a 60 mL in case you need to drench the mother
Variety of feeding tubes: while it is fairly rare to have to tube feed a newborn, it is helpful to know how to do so and to have the right sized tubes available to use should the need arise
Bottle & nipple: just in case you need another method of feeding. Emergency situations and rejections do happen on occasion, so it is good to be prepared to become "Mom"
Molasses: warm water with molasses is a great pick-me-up for any animal that has gone through labor. A little bit of straight molasses on your fingertip is also helpful in stimulating a suckle reflex in any weak newborns.
Baby wipes: you may want to use these yourself once the birth is over
For every operation, there is a multitude of helpful items to keep on hand. These are just a few suggestions that we have found helpful over the years. Always consult with your veterinarian regarding medical treatments. Cheers to another birthing season! Image courtesy of the D'Aquino family. Little Agnes was a surprise, but she is healthy and doing quite well!