Thorvin Foliar Kelp, 2.5lb
Shipping Included for Retail Customers in the Contiguous 48 States
Highest Quality, Certified Organic Icelandic Kelp 
For Soil Amendment and Foliar Water Soluble Application
Dried by Geothermal Heat
1. What is Thorvin?
Thorvin offers a range of high quality solutions derived from sea vegetation. Thorvin offers the most nutrient-rich kelp ingredients on the market. We harvest from the cleanest kelp beds on Earth, and then dry and store fresh harvests using exclusive methods that "lock in" a potent array of bioavailable minerals, vitamins, and beneficial phytonutrients.
2. Why spray Thorvin for Plants Foliar on plants?
A high-quality dehydrated seaweed extract, Thorvin for Plants Foliar is an exceptional nutrient source for plant growth and vigor, containing nutrients essential for plant growth and development, including natural nitrogen in a non-burning form. Thorvin for Plants Foliar is safe; non-toxic and non-polluting when used as directed and can be applied anytime indoors or out.
• All Purpose – Water Soluble

• Professional Strength Kelp Extract

• Use Anytime on Any Plant

• Approved for Organic Growing
3. How does Thorvin for Plants Foliar work?
Derived from nutrient-rich Ascophyllum nodosum seaweed, simply dilute with water and spray on plants, run through irrigation, or use as a transplant dip. Thorvin for Plants Foliar contains potash which protects plants from cold and prevents excessive loss of water during dry weather.
Guaranteed Analysis
| | |
| --- | --- |
| Total Nitrogen (N) | 1% Water Soluble Nitrogen |
| Available Phosphate (P2O5) | 0% |
| Soluble Potash (K2O) | 18% |
4. What are the application rates for Thorvin for Plants Foliar?
Reconstitute Thorvin for Plants Foliar by dissolving ten ounces into one gallon of water. Mix well, and then dilute further with enough water to cover one acre, dependent on equipment employed and application. See table below for specific applications.
For small applications, mix ¼ teaspoon with 1 gallon of water, which covers 250 to 300 square feet.
Mist all leaf surfaces every 2 weeks for a regular feeding program. Spray in early morning or evening when no rain is expected. Thorvin for Plants Foliar may also be watered in.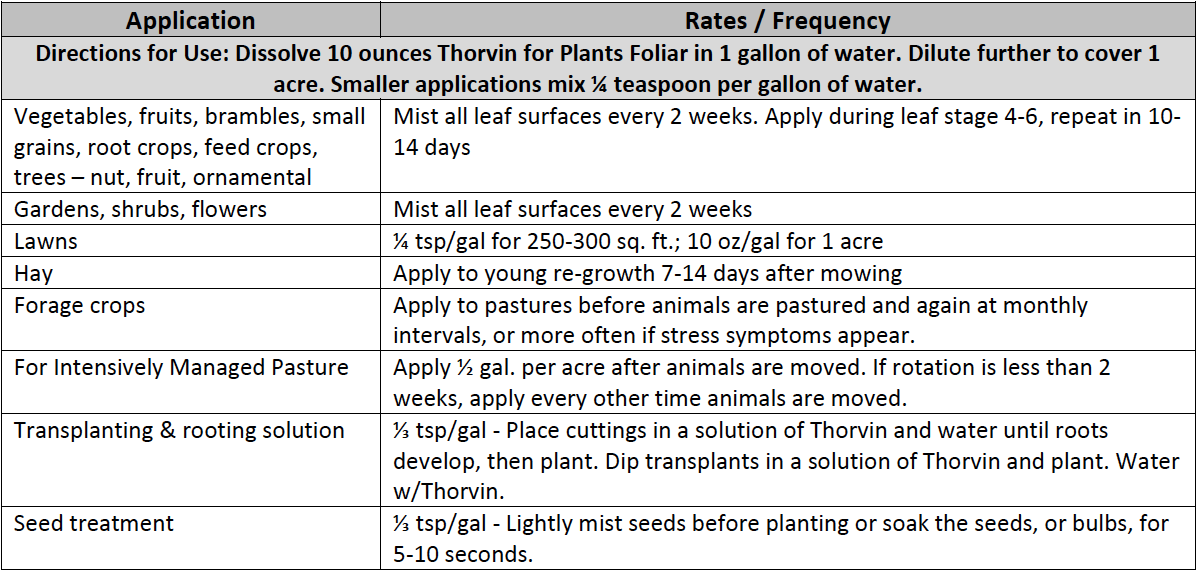 5. What are some tips for foliar feeding?
Foliar feeding works well with all types of sprayers. Fine mist particles are most effective. Foliar nutrient spraying is simple and effective. These tips are not "musts" but may be of help:
1. Add a good clean surfactant or soap to make the water solution wetter and improve leaf absorption.
2. Mix concentrate with enough water to spray evenly over entire leaf surface, including undersides if possible.
3. Spray in the early morning after the dew is off the plants and plant metabolism is high. Late evening is also a good time to spray. Spray when soil is dry.
4. Our research indicates that a high soil phosphate level increases the effectiveness of foliar growth promoters such as liquid kelp.
6. Is Thorvin organic?
Thorvin is OMRI Listed. Thorvin agricultural products are allowed for use in certified organic operations under the USDA National Organic Program. Look for the OMRI Listed® seal.
7. What do growers say about Thorvin for Plants Foliar?
Jack Bostic, organic gardener, Sinking Creek Valley, New Castle, VA
"Thorvin Water Soluble Kelp truly makes it easy for the little guy to get great results with organic gardening.
I've been using Thorvin for the last several years. I've used the feed grade as a fertilizer in the rows and the finely ground powder as a spray. The water soluble kelp dissolves very quickly." Jack uses Thorvin for Plants Foliar and Thorvin's kelp meal very successfully on his four acres of organic gardens and orchards."
More Information

| | |
| --- | --- |
| Weight | 2.500000 |
| Product Type | Fertilizer, Kelp |
| Brand | Thorvin |
| Auto-Ship | No |
| Ingredients | Derived from dehydrated Icelandic Geothermal kelp extract (Ascophyllum nodosum) |
| UPC | 850013216529 |
Derived from dehydrated Icelandic Geothermal kelp extract (Ascophyllum nodosum)