April 4, 2023
142 view(s)
One of the things we love to champion at New Country Organics is proven, management-based practices to improve animal health and wellness in the herd and flock. Methods like these are not only organic, allowing producers to continue their great work in improving community and global heath, but also often result in greater gains and fewer vet bills. Who doesn't love the sound of that? With calving season well under way for many producers, we thought it might be a good time to tell you about two of our favorite calving-time practices: The Sandhills Calving System and evening feeding for daytime calving!
The Sandhills Calving System:
This method was developed by the University of Nebraska's Dr. David Smith, and by Jove is it ever effective at controlling parasites and improving calf survival rates. It works largely by preventing scours in calves, and some folks have reported nearly a 10% difference in calf survival in what is usually a near 12% calf mortality herd. That's quite the difference! The major sticking point for most people is that it does make calving season more labor intensive, but with that massive improvement in calf survival, it's usually well worth the extra work.
So how does it work?
This system works on 3 principles:
When possible, newborns are born on relatively fresh, and therefore uncontaminated, pastures.
Newborns aren't coming playing with older calves that have already been exposed to – and have limited immunity to – parasites and bacteria that cause scours.
All calves are better protected during the period between where the immunity they got from their mother's colostrum wears off and their own immunity starts building up.
To start, you'll need at least one large pasture with some way to divide it in three parts and provide water to all, or more preferably one pasture with water for every 2 weeks of your calving season. Then, the system is fairly simple:
Put all cows you expect due soon into pasture 1.
After 2 weeks of calving in that pasture, move all your still-pregnant cows to pasture 2.
After two weeks of calving, preferably move all your still-pregnant cows to pasture 3.
Once calves in a pasture are 4 or more weeks old, they can be placed together in a singular pasture.
Continue this cycle until all calves are born, or move cows and calves back in together after calves in that group have reached 4 weeks old.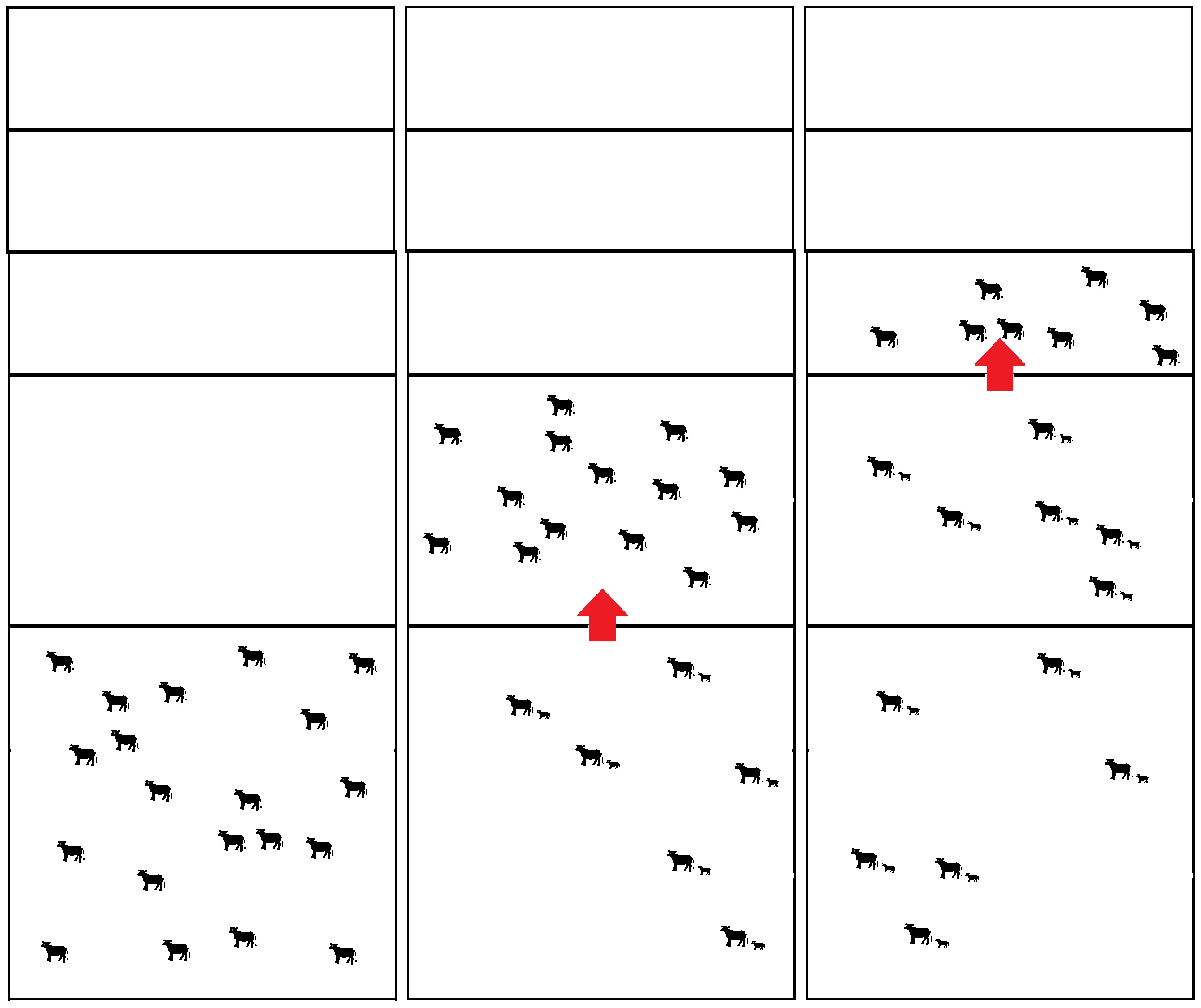 Of course, if you only have two pastures, or one pasture broken into two parts, your system will have to be modified to accommodate your needs. For this, the main thing to keep in mind is that you want your new calved separated from your older calves until they're at least 4 weeks old. It won't be quite as efficient as the usual Sandhills System, but it will still help prevent scours. An example for a three-pasture system might go like this:
All the pregnant cows are together in pasture 1.
After 2 weeks, move all the pregnant cows to pasture 2.
After 2 more weeks, move the pregnant cows into pasture 3.
After the next 2 weeks, collapse pasture 1 into pasture 2, and most pregnant cows to pasture 1.
Collapse 2 into 3, and then 3 into 1, continuing this rotation until all cows have calved.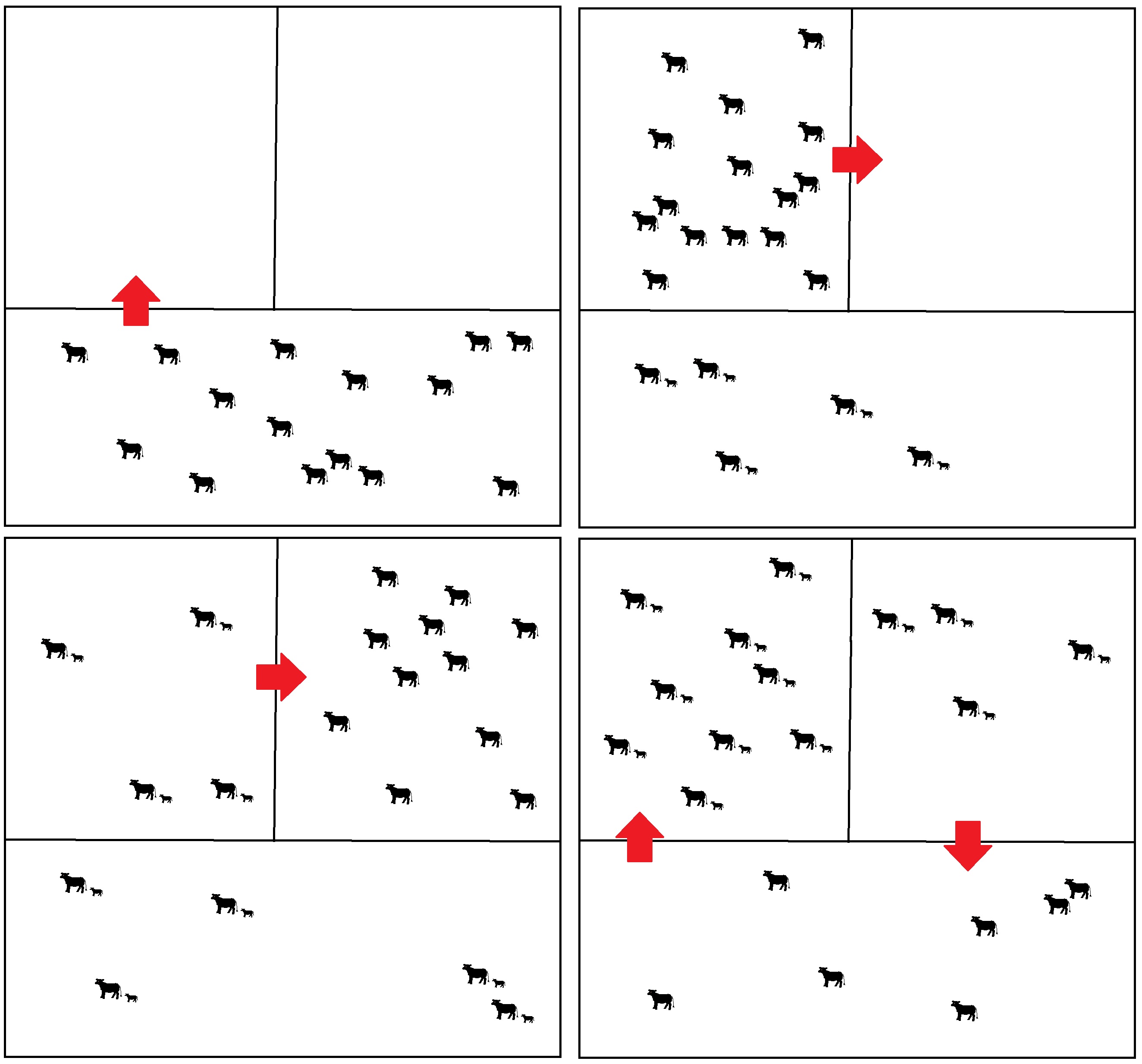 Sounds great! You said I can also get my cows to calve during the day when I actually want to be awake?
Yep! Turns out that cows, for the most part, calve on a rhythm that depends on when they're fed. The current theory is that because digestion uses a lot of energy, they don't want to be giving birth on a full stomach. This holds true for all breeds, as well. The schedule you choose is going to depend on whether you feed once a day or twice a day, and how late in the morning you like waking up, but in general the later you feed, the later in the morning they'll calve. For examples of these calving windows:
For a twice-a-day feeding routine, feeding your cows at 11am and 9pm should make about 80% of your cows calve between 7am and 7pm. You can move this backwards or forwards with similar results.
For a once-a-day feeding routine, feeding at 4pm should make about 82% of your cows calve between 6am and 10pm.
Surprisingly, it's really that simple. Your cows will, of course, be reasonably stressed if you change their feeding regime quickly just a few days before calving, so we recommend changing their schedule before calving time to save yourself from their dirty looks.
Further reading:
Smith, David R. (2007). Basic Principles Used in the "Sandhills Calving System" and How They Apply to Other Production Environments. University of Nebraska Lincoln. https://beef.unl.edu/beefreports/symp-2007-17-xx.shtml
Hartenstein, Shannon. (2004). The Sandhills Shuffle: A New Calving Strategy Helps Reduce Pathogen Exposure and Eliminate Calf Scours. Angus Beef Bulletin. http://www.angusbeefbulletin.com/ArticlePDF/abb0304_newcalving.pdf
SDSU Extension. (2022). Feed at Night, Calve During the Day. South Dakota State University. https://extension.sdstate.edu/feed-night-calve-during-day